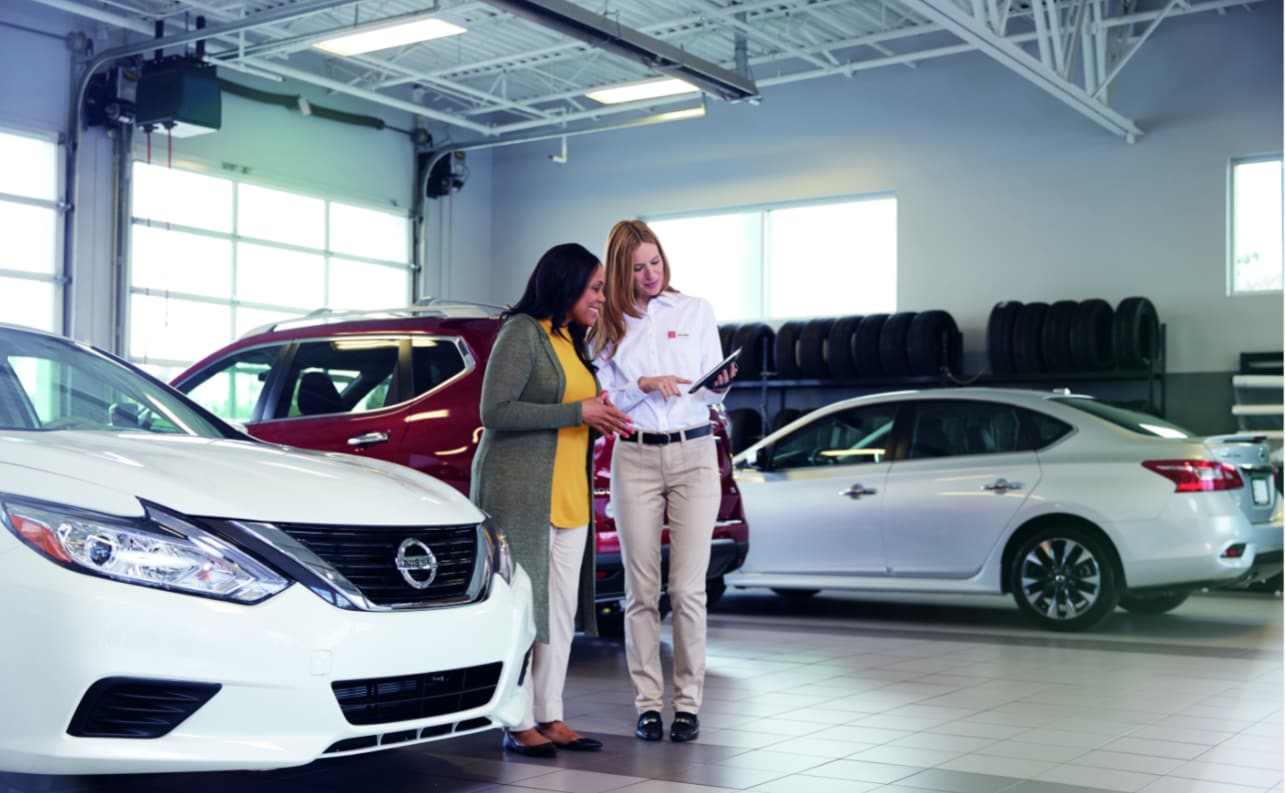 A vehicle's tires can be one of its greatest assets or a major weakness. Keeping a vehicle's tires maintained properly can save you money and keep you safer out on the road. With so many different tire types and things that can go wrong with them, it is hard to know what is best for a vehicle, but armed with a little information, tire care can be easier than you may think. That's why Loving Nissan wants to provide our customers near the Livingston, Nacogdoches, and Jasper areas with tips on servicing your tires.
There are a number of different types of tires, including highway, all season, snow, all terrain, mud, and high performance. The main difference between them is the way in which their tread blocks are arranged. Highway and all season tires tend to have circumferentially arranged tread blocks, which allows them to disperse road water by cutting through it and provide a smooth ride with low rolling resistance. Snow, mud, and all terrain tires have radially arranged tread blocks. While they are still good in rain, they are best for handling dirt and snow situations. The primary difference between mud and all terrain tires is the distance between the tread blocks or the "tread void" of the tires. 
High performance tires are produced with other goals in mind. These tires are meant to have a shorter stopping range, have superior cornering performance, and handle speed better than other tires. The driving style and the environmental elements affecting the vehicle are major factors to consider when determining which tires will be best. 
Other factors work on tires that affect their performance. Having a tire rotation every 6,000-8,000 miles can preserve a vehicle's balanced handling and even out the wear on all tires, making them last longer. In addition, many tire manufacturers require tire rotations to maintain warranty validity. 
Regular wheel alignments also serve as a preventative maintenance service. Not only do alignments reduce the frequency of new tire purchases by eventing tread wear. They also increase road safety by preventing a whole host of other vehicle issues. In addition, they can save gas money for drivers by reducing unnecessary friction by ensuring even distribution of pressure among all tires. Please note that a wheel alignment is different from wheel balancing, a service which maintains balance between the tire and rim. 
A final factor to consider pertaining to a vehicle's tires is the age of the tires. It is not only tread wear that can compromise the integrity of a tire. The rubber on any tire over six years old has begun to age, which can cause cracks in the rubber. These cracks can lead to the tread separating from the rest of the tire. Elemental factors such as extreme heat and environmental agents can accelerate this aging process. 
Patched tires and over or under inflated tires should also be scrutinized earlier than the six year mark. Because of these issues, it is important to never purchase used tires and to ask about the new tires being sold to you, to be sure they are recently manufactured tires. Many newer tires have a four digit DOT number stamped on the tire wall which indicates the month and year of the tires production. 
Are you looking for great tire prices in your area? Loving Nissan is happy to help with any of your tire needs. From new tires to wheel alignments, we can handle it. Schedule your next tire rotation with us or check out our service specials page and save on your vehicle's next service. Searching for tires near me? Visit us today at 1433 S Medford Dr, Lufkin, TX 75901 or give us a call at (888) 745-8361. Our service experts are ready to help you hit the road with confidence today! We are proud to serve our Livingston, Nacogdoches, Trinity and Jasper customers.