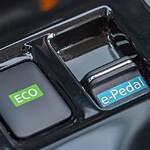 The Nissan LEAF here at Loving Nissan is an EV that is easy on the budget and your ecological footprint. When you choose the LEAF, you can take advantage of a variety of benefits that you can learn about below.
The LEAF features a powerful electric motor that's housed between the front wheels, and the lithium-ion battery is strategically placed under the floor. Since the LEAF is 100% electric, you don't need to spend money on gas, and it's simple and quick to charge the LEAF. Moreover, you can enjoy a peaceful ride in the LEAF because not having an internal combustion engine cuts down on cabin noise, and you don't have to worry about engine repairs and maintenance services.
You may be able to get certain tax incentives, rebates, and credits if you purchase the LEAF. Depending on where you live, you may even get access to carpool and HOV lanes.