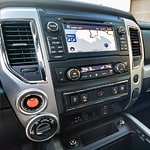 The Nissan Titan hijacks attention with its bold styling, power and handling. The tech geeks on our Loving Nissan team also appreciate its advanced technical features. They're partly why the Nissan Titan remains a popular pick in its category. Here are two tech features for your info.
Engine Start From Afar
When you're pressed for time and need to go, Nissan Titan's Remote Engine Start comes in especially handy. You can start the engine long before you actually settle into the driver's seat. The added perk of Intelligent Climate Control lets you adjust the cabin temp beforehand to be cool or toasty, so the cabin is Goldilocks-perfect in advance of your arrival.
Perfect Fit
Nissan Titan's Driver Memory Seat System remembers just how you like your seat position, steering and outside mirror position, adjusting automatically to accommodate multiple drivers of the same Nissan Titan.
Visit Loving Nissan today for a Nissan Titan test drive. See you soon.